In this episode of The Great Digital Transformation, Gerry talks to David Rogers, one of the world's leading experts on digital transformation and the author of the new book "The Digital Transformation Roadmap". David shares his insights on how to overcome the common barriers that prevent businesses from succeeding in the digital age, and how to create a culture of continuous innovation and learning. He also reveals his five-step roadmap to transform any organization for the future, based on his extensive research and experience working with global companies like Google, Microsoft, and HSBC. Whether you are a leader, a manager, or an employee, you will learn valuable lessons and practical tips on how to lead digital change in your organization and in your industry. Don't miss this opportunity to hear from one of the most influential thinkers and practitioners in the field of digital transformation. Tune in now and get ready to be inspired!
Guest Bio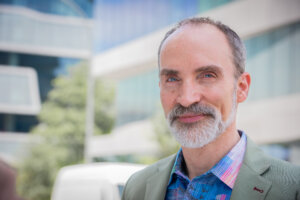 David Rogers is the world's leading expert on digital transformation, a member of the faculty at Columbia Business School, and the author of five books.
In his newest book, "The Digital Transformation Roadmap" (2023), Rogers tackles the barriers behind the 70% of businesses that fail in their own digital efforts. He shows why every business must transform not just its products―it must transform the organization itself. Rogers offers a five-step roadmap to rebuild any organization for continuous digital change.
His previous landmark bestseller, The Digital Transformation Playbook (2016), was the first book on digital transformation and put the topic on the map. Now published in thirteen languages, it defined the discipline by arguing that digital transformation (DX) is not about technology; it is about strategy, leadership, and new ways of thinking.
Rogers has helped companies around the world transform their business for the digital age, working with senior leaders at corporations including Google, Microsoft, Citigroup, Visa, HSBC, Unilever, Procter & Gamble, Merck, GE, Toyota, Cartier, Pernod Ricard, China Eastern Airlines, NC Bank Saudi, and Acuity Insurance, among others.
Rogers regularly delivers keynotes at conferences on all six continents and has appeared on CNN, ABC News, CNBC, Channel News Asia, and in The New York Times, The Financial Times, The Wall Street Journal, and The Economist.
At Columbia Business School, Rogers is faculty director of executive education programs on digital business strategy and on leading digital transformation. He has taught over twenty-five thousand executives through his programs in New York City, in Silicon Valley, and online. His recent research has focused on new business models, innovating through experimentation, governance for growth, and barriers to change in digital transformation.
For new tools and weekly content from David, visit www.davidrogers.digital.